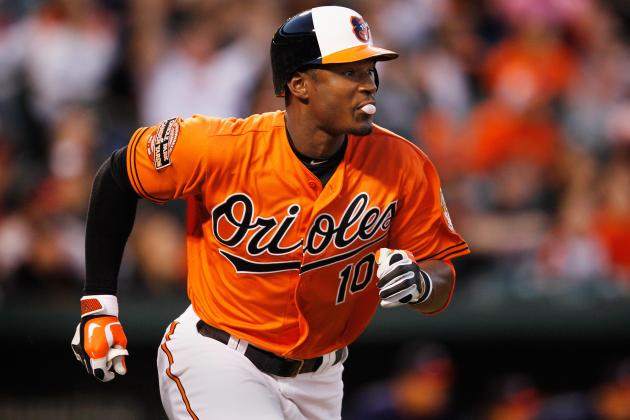 The Royals are up 2-0.

The last two games have given me horrifying flashbacks of Jim Johnson.

Of Raul Ibanez.

Of 14 losing seasons.

Of missed opportunity.

This year is different.
I've been going to Orioles games since before I can remember.

I've seen a few wins.

I've seen a lot of losses.

On April 11, 2002, my eighth birthday, I watched the O's come back from a 6-1 deficit against the then Devil Rays.

They scored 12 runs in the bottom of the 6th and went on to win 15-6.

That season the Orioles went 67-95.

This year is different.
In 2005, I watched the birds cling to first place in the AL East for 62 days early in the season.

Brian Roberts and Miguel Tejada rounded out the middle infield for the American League All-Star team, and Tejada even hit a home run in the midsummer classic.

Things were looking up.

After a historic collapse, they finished the season 74-88 in 4th place.

This year is different.
After 14 consecutive losing seasons, my Freshman year of college, the Orioles went 93-69 and claimed a wild-card spot for their first playoff berth since 1997.

They knocked off the Rangers in grand fashion and eventually lost in 5 games to the New York Yankees.

I was crushed, but I really didn't expect us to go very far.

Making the playoffs was remarkable in and of itself.

2012 was a success.

This year is different.
The Orioles are losing this series 2-0.

That is a simple reality.

No team has ever lost the first two in the ALCS at home and gone on to win the series.

Yet, these Orioles aren't like any team I've ever seen.

Buck Showalter seems to know what is going to happen 5 steps before anyone else.

Every single player on the roster seems to make a huge play just as we begin to lose hope in their ability.

The fan base in Baltimore has united in a way that didn't seem possible just a few years ago.

History says that the Orioles will lose this series.

This year is different.
So tonight, at 2 AM in Madrid, I'll turn on my TV.

I'll be wearing my Machado jersey and my orange and black, cartoon bird cap.

I'll watch as my beloved team tries to turn around a series that at the moment looks bleak at best.

Tonight, I won't get a lot of sleep, and that's okay.

The Orioles will win, because this year is different.